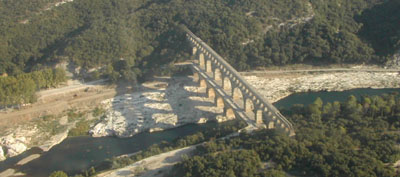 Welcome to the C.I.D.S. for the Pont du Gard
Since its creation in 1990 our association works to preserve the authenticity on the site of the aqueduct built by the Romans to carry water frome the spring in the Eure valley at Uzes to Nîmes, over a 50 km stretch. The association uses the site's natural museographie resources in order to advance the cultural and educational aspects.
The principal aims of our association are to substantially highlight the Romans' constructions and to acquire a better understanding of the various sciences and techniques used. It encourages projects leading to a more in depth discovery of the aqueduct. It looks after the protection of the site and the defence of this world renoved heritage.
Head Office : CIDS Chemin de Font Grasse
30210 CASTILLON-du-GARD
FRANCE
Téléphone/fax : 04.66.37.12.52
Any remarks you may have concerning the site internet interest us !
Please contact us.
Contact : click on the pen !


Updated
monday 1 november 2004